Storing Bitcoin and Ether the safe and easy way.
The Card Wallet is a high-secure way for storing Bitcoin and Ether offline, developed by Coinfinity and the Austrian State Printing House. Learn more
Buy now
Get a 10% discount when paying with lightning.
How do you store Bitcoin securely in the long term

?

Holding cryptocurrencies is not easy. Smartphones get lost, hard drives can crash and online wallets get hacked frequently.

The safest way of storing cryptocurrencies long term is offline in a physical way. That's why we developed Card Wallet - the professional cold storage solution.
Who produces the Card Wallet?
The Card Wallet is a co-production of Coinfinity and the Austrian State Printing House (OeSD). Coinfinity was the first Austrian bitcoin company and has stood for trust and values in the crypto world for many years. OeSD is an international leader in the production of secure documents and, among many other things, produces Austria's passports.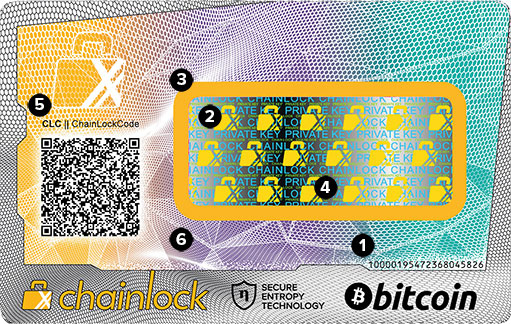 High-quality security materials and tamper-proof features prevent the manipulation of the card.
1. Tactile security features
2. Hologram
3. Security slits
4. Security seal
5. ChainLockCode
6. Forgery-proof features
Private keys protected by SET
Random numbers are critical when generating private keys. The Secure Entropy Technology prevents errors in the generation and processing of random numbers and targeted attacks by an infiltrated random number generator. The SET statistically checks whether a safe entropy source contributed by us has been positively used.
Learn More »